The Eastern Slope branch of the New England Ski Museum is located in the Mount Washington Valley, an area arguably equal in importance to Franconia in the introduction of skiing to America. The long-time location at Franconia Notch State Park has been, and will remain, a welcoming home for the permanent and annually produced exhibitions, as well as the vast and growing collections.
The Eastern Slope branch of the New England Ski Museum is open from 10 am to 5 pm, seven days a week from Memorial Day through March. In April and May it is open from 10 am to 5 pm Thursday through Sunday.  Located in the former North Conway Community Center that was created by Harvey Dow Gibson, a giant in the history of skiing, it is situated on busy NH Route 16 in North Conway, NH near the 1880 Victorian train station, village shops, eateries, and popular Schouler Park, where Austrian skimeister Hannes Schneider arrived in 1939 to bring his Arlberg technique to America.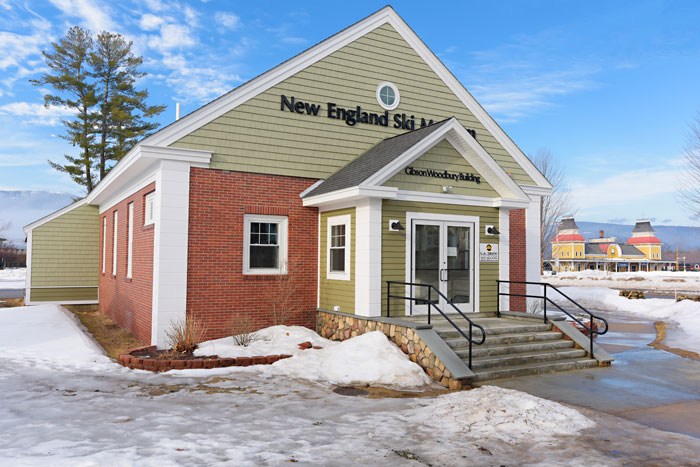 This building and location enhances the Museum's influence and outreach. The 4,400 square foot building includes the airy Robert J.A. Irwin Exhibit Hall, equipment and archives storage, a museum store and offices, and the comfortable Wilkinson-Greenberg Library.
The Eastern Slope Branch of the New England Ski Museum opened with a ribbon cutting ceremony on Saturday February 24, 2018. Hundreds of people attended to kick off this exciting new addition!  Stop by and visit soon!