The New England Ski Museum is governed by a volunteer Board of Directors of 26 individuals, among them ski historians, ski professionals, business people, and ski resort veterans from every New England state and New York.
President: Bo Adams, York, ME
Bo grew up in a skiing family in Simsbury, Connecticut and attended Nasson College in Springvale, Maine where he raced for their Alpine Ski Team and was Captain for two years. After graduation Bo coached his college team while beginning his career in the ski resort insurance business.
Bo has strong ties to the ski industry and is very passionate about the sport and the industry. Bo is the grandson of Carl E. Shumway who was one of the founding members of the Dartmouth Outing Club and is proud to have followed in the tracks of his grandfather by making the annual spring trek to the Eastern slopes of Mount Washington 55 years in a row. Bo joined the New England Ski Museum Board of Directors in 1999, and has been the Museum's President since 2007.
Vice President: Timothy G. Scott, Jackson, NH
Tim Scott lives in Jackson, New Hampshire with his wife, Sheila and three dogs. He has skied in the Mount Washington Valley and around the world since he was two and a half. He raced alpine for Don Henderson at Holderness School and then for Brud Folger at the University of Maine. His career has been devoted to the advancement of nonprofit organizations, most recently the Ski Museum and its long awaited North Conway expansion. Earlier in his career he was an advisor to the Ski Museum board and along with Penny Pitou and the late Bob Morrell, helped rejuvenate the Paul Valar Society, a role he intends to reprise in the coming years.
Secretary: Peter C. Clark, New Boston, NH
Peter is a native of New Hampshire currently residing in New Boston. His lifelong passion for the sport of skiing began at the age of five when his aunt gave him his first pair of skis. He is a graduate of Colby College where he was a member of the varsity ski team. Since retirement, he has been actively involved with alpine ski racing as a nationally certified coach and official. He has served on numerous ski related nonprofit boards including NHARA, the Franconia Ski Club and the Waterville Valley Ski Education Foundations.
Treasurer: Kathleen E. Sweeney, North Conway, NH
Kathy grew up in New Jersey and migrated north to the Mount Washington Valley. Ski Clubs were her introduction to the Valley as well as the sport of skiing. She is the president and owner of Kathleen E. Sweeney, CPA, a full-service accounting office based in Center Harbor, New Hampshire, with a satellite office in North Conway. Prior to buying her own firm, Kathy had worked for ten years with a Boston-based CPA firm and two years with a local small firm. She is a member of the AICPA, New Hampshire Society of CPAs, National Society of Public Accountants, and the New England Quality Review. Kathy is a Corporator with the Meredith Village Savings Bank. She is also the Treasurer of Jens Friends Cancer Foundation and the Winnipesaukee Playhouse.
Historian: E. John B. Allen, Rumney, NH
E. John B. Allen, PhD in History, is the long time historian for the Ski Museum and author of From Skisport to Skiing: 100 Years of an American Sport 1840-1940 and The Culture and Sport of Skiing From Antiquity to World War II, both published by the University of Massachusetts Press. He has also written a history of American ski instruction and over 60 refereed articles published in international, national and local journals.
Dr. Allen served as academic chair of two international conferences on ski history and has been a consultant for half a dozen ski history documentary films. He has lectured in the USA and Europe, most recently in 2009 on an 8-lecture tour of Slovenia.
Bruce A. Berke, Bow, NH
At a very early age, Bruce made his first turns between his Norwegian Dad's legs at either Rock House Mountain Farm in Eaton, New Hampshire or at Yawgoo Valley in Slocum, Rhode Island. In either case, he was hooked early on for this enjoyable lifetime sport! Having grown up in Rhode Island, he came to New Hampshire in the late 1970's and has been here ever since. Bruce is the founding partner of a government relations firm in Concord and one of his original clients has had him representing SKI NH and its predecessor for over 30 years. Bruce lives in Bow, New Hampshire and with his family visits their vacation home in Franconia as often as possible.
Greg Connolly, Peterborough, NH
From a family of life-long skiers, Greg has skied, traveled and worked throughout the world while possessing a passion for the sport and its history. Greg is the former President and partner in the marketing agency, FirstTracks Marketing Group and splits time between Peterborough and Franconia New Hampshire.
Tom Cottrill, New London, NH
Raised near the now defunct King Ridge Ski Area (New London, New Hampshire), Tom's early years revolved around skiing especially with two ski instructing parents. From opening day to closing, the family spent every day at King Ridge. Tom was skimeister in his senior year in high school, raced alpine in college, taught skiing at Park City and coached junior teams at King Ridge, Waterville Valley and Mount Sunapee, and continues to coach the local middle school ski team.
Now retired, Tom was president of ski industry trade group SnoCountry, Inc. for over two decades and for 12 years prior, he was EVP of the company that invented paintball games. Along the way, Tom did a short stint as a pro race car driver, has been a private pilot for 40 years and has skied the Haute Route (and hopes to do that again!). Tom also enjoys slalom water skiing, bicycling, sailing, hiking/camping and traveling.
Jeremy Davis, Wilton, NY
Jeremy Davis is the author of the recently published Lost Ski Areas of Southern Vermont as well as Lost Ski Areas of the White Mountains. He is the founder of the New England Lost Ski Areas, the largest collection of lost ski area history. He has served on the New England Ski Museum Board of Directors since 2000. Jeremy is employed at Weather Routing Inc. in Glens Falls, NY where he is a Senior Meteorologist.
He is also an on-air Meteorologist for Look TV News, based in Glens Falls, New York. He currently resides just outside of Saratoga Springs, New York. It is most convenient for Jeremy to schedule talks in Vermont, eastern New York, and the Berkshires.
Sean Doll, Littleton, NH
Growing up in New Jersey, Sean started skiing at a young age with day trips to the Poconos in Pennsylvania, and Hunter and Windham in southern New York. Sean also enjoyed visiting his family condo at Killington, with annual trips to the mountains of Colorado. Over the past 20+ years, Sean has made a career of the ski industry.
Sean is an Associate Professor and chair of the Mountain Recreation Management department at Northern Vermont University-Lyndon, where he is the head of the Mountain Resort Management concentration and oversees all internships for the Mountain Recreation Management department. Sean, who has been teaching at Northern Vermont University-Lyndon since 2010, lives with his wife and two dogs in Littleton, New Hampshire.
Having worked in marketing, public relations, sales, event management, adventure activities, and guest relations, Sean has experience in all aspects of mountain resort management. Sean also has leadership experience in operations of both Nordic and Alpine operations; he oversaw operations at the B-Bar Ranch and Nordic Center in Montana and at Bretton Woods Nordic Center, and served as Assistant Director of Operations at Bretton Woods Mountain Resort.
In addition to his knowledge of mountain resort management, Sean brings to the board a record of service to nonprofit organizations including currently serving as a Director of the Friends of Burke, as a past Director of the Lyndon Outing Club Ski Area, and as a past President of the Twin Mountain/Bretton Woods.
Brian Fowler
Brian Fower is a retired Engineering Geologist best known for his geotechnical studies and post-collapse memorial work on the Old Man of The Mountain and his long association with the Mt. Washington Observatory. He is a life-long Nordic skier, a Past-President and Life Trustee of the Observatory, a 40-year member of the American Alpine Club, and the Founder of the Mountain Rescue Service. He briefly worked for the Museum supervising construction completion and then opening and managing its Eastern Slope Branch. Thereafter he joined the Museum's Board where he organized and directed several of its Bretton Woods Nordic Marathons. He and his wife Betsy live in Grantham, New Hampshire.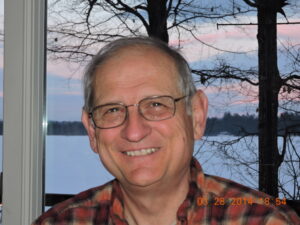 Geoff Homer
Geoff Homer is a lifelong skier, having been introduced to the sport by his parents at a young age, where his first turns were taken at Spruce Peak, Stowe. He has been fortunate to ski most, if not all of the mountains in Maine, New Hampshire and Vermont! Geoff raced at the FIS level and attended Middlebury College, where he was on the alpine ski team. He has a lifelong passion for the ski industry and once did a school project on the 10th Mountain Division.
Geoff previously owned and operated Shawnee Peak Ski Area with his father, Chet. Geoff is a former board member of Ski Maine Association and a current board member of Loon Echo Land Trust.
Born and raised in Maine, Geoff is a resident of Boston. He is most excited about teaching his two young sons how to ski!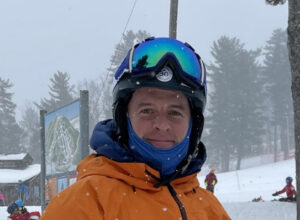 Geoff Homer
David Ingemie, McLean, VA
David Ingemie was President of the Snowsports Industries America from 1981 through 2015. He was marketing director at Wachusett Mountain in 1969, then became executive director of the Mount Washington Valley Chamber of Commerce in the 1970s. A paper nominating him to the US Ski and Snowboard Hall of Fame describes him as "the 'glue' that has held winter sports manufacturers, resorts, retailers and sales reps together for nearly 40 years."
Jim Irwin, Contoocook, NH
Born into a family of passionate skiers, Jim began skiing at an early age in Buffalo, New York. At the age of five his family moved to Switzerland where he lived for ten years the Jura Mountains. While there he was within walking distance or easy train ride to the slopes.Jim returned to the States and eventually settled in New Hampshire where he pursued a career in Civil Engineering. He became interested in ski history through his father who had amassed a large collection of ski books, which later became part of the Robert J. A. Irwin Library at the New England Ski Museum.
Mike Krongel, Newton, MA

Mike is a life-long skier with many years of ski industry experience. Since 2010 Mike has headed Mirus Resort Advisors specializing in mergers, acquisitions and financing as well as sales and marketing strategies for travel and resort companies. Prior to this point in his career Mike initiated and closed on four major ski resorts that together formed American Skiing Company. After his time with ASC Mike served on the Board of Directors of Boyne Resorts from 2011 to 2015. Mike has recently been appointed to the Board of the United States Ski and Snowboard Hall of Fame.
Richard Moulton, Huntington, VT
With a degree in Mass Communications from Denver University I started making surf movies in the 1960's while going to the University of Hawaii's East West Center. Returning to Vermont in 1973, my wife Melinda and year-old son bought land and built our own stone house and barn that we are still in today.
I worked for Vermont Public Television but after a few years decided to become an independent filmmaker. Melinda and I produced Legends of American Skiing in 1983, and I have had a niche in films pertaining to ski history ever since. I did yearly films for Ski and Skiing Magazines, for manufacturers and ski resorts, several for the US Ski Hall of Fame, for the National Ski Patrol, and the New England Ski Museum. Notably I made the Vermont Memories series, Northern Railroads and the George Aiken Story for Vermont Public TV, Change Challenge for the Orton Foundation and Through the Years for SE Group. My web exhibit, Making A Legend: Lowell Thomas & Lawrence of Arabia – Creating History has won several awards and currently posts over 100,000 hits per month. I just finished making Passion for Snow, the Story of Dartmouth College's role in skiing. My current project is a documentary on Lowell Thomas and broadcast journalism in the Twentieth Century.
Xander Paumgarten, Stowe, Vt
Thomas Quarles, Jr., Brookline, NH
Tom Quarles began skiing at age 4 at Hogback Mountain in Marlboro, Vermont. Since 1986 he has worked as an attorney at the New Hampshire law firm of Devine, Millimet. Tom's firm was the original and still the only law firm in New Hampshire defending participating ski areas in the Kendall specialty ski insurance program. Tom has represented all the major ski areas in New Hampshire through either that program or the other major ski insurer. He was the principal author of the 2005 amendments to the New Hampshire Ski Statute. He has taken eight ski cases to reported decisions by the N.H. Supreme Court and two ski cases to the Federal First Circuit Court of Appeals, both of which he won.
Tom is an avid alpine skier, telemark skier, an occasional cross-country skier and a trying-to-learn snowboarder. He resides in Brookline, New Hampshire near the remains of one of the pre-war New England ski areas. That ski area which was called "Brookline," "Big Bear" and "Musket Mountain" while it was operating, is now the Andres Institute of Art, an educational arts program with outdoor sculptures sited on the former ski trails.
John Schiffman, Hanover, NH
In 1959 John Schiffman learned how to ski on the Dartmouth rope tow. He improved his skiing skills when he taught for Paula & Paul Valar at Mitersill. He has been a financial advisor to ski areas, ski area consultants and members of SIA. Over the years he has served on many boards among them, PSNH (builder of the Seabrook Nuclear power station), the AICPA life insurance Trust (insurer of 260,000 lives) and Amerinst (a Bermudian based insurance company).
In the not -for -profit sector he has served as an auditor and financial consultant. During his career he has preserved a century old bookstore and participated on other boards such as Howe library, Lebanon Opera house, NCIC and Franconia College. He has been recognized as a nationally accredited expert in financial forensics, offering testimony in state courts and the 1st and 2nd federal judicial circuits. He retired from Schiffman Dattilio & Company (a CPA firm) in 2007.
In 2013 he orchestrated a bankruptcy/foreclosure process which gave life to the Upper Valley Snow Sports Foundation and a new life for Whaleback Mountain (Enfield, NH). This community ski area will be celebrating a decade of sustainable operations with its duly qualified tax-exempt status in March 2023.
John currently resides in Hanover, NH with his wife Jill. They have two children and three grandchildren.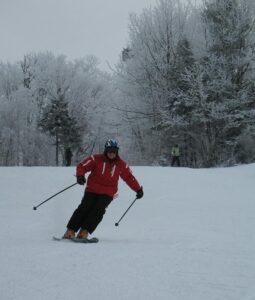 John Schiffman
David Sunshine, Richmond, VT
David M. Sunshine is a resident of Richmond, Vermont and has lived in an old farm house in Richmond for the past 46 years. He has an adult son and two granddaughters.
David received his undergraduate degree from Ohio State University and his Juris Doctorate Degree from Washington College of Law of American University in Washington, D.C. Mr. Sunshine is a member of the Vermont Bar Association and the Chittenden County Bar Association.
He has practiced law for the past 40 years in his office located in Richmond, Vermont. His law practice is a general practice focusing on commercial and residential real estate, litigation, estate work, business startups and business purchases and sales. He also represents many towns in the collection of their delinquent property taxes.
David is a long time member of the Board of Directors of the New England Ski Museum in Franconia, New Hampshire and the Birds of Vermont Museum in Huntington Vermont.
David has been skiing since he was 13 years old and continues to enjoy skiing, spending as much time on the slopes as he can in the winter. He is an original shareholder in the Mad River Glen Ski Area Cooperative.
Jim Weitz, Cambridge, MA
Jim Weitz lives in Cambridge Massachusetts and grew up in a ski family with an alpine racing background. He currently skis at Cannon Mountain and also throughout North America and Europe. While attending Westfield State College he taught at Mount Tom, and founded and was the first president of the Westfield College Ski and Snowboard Club. While at Nashoba Valley, Jim was a ski instructor, certified head alpine race coach for Tri-state and Buddy Werner League, and race official for over 20 years.
He continues to race on the New England Masters circuit and team race leagues at Nashoba Valley and Wachusett. As a consultant for Rossignol Ski Company he continues to maintain a presence in alpine race community. Jim is the founder and owner of Gloucester Seafood Wholesalers LLC of Boston.
Janet White, Essex, MA