Cal Conniff, from Ski Bum to National Ski Executive
 New England Ski Museum's Annual Meeting and Spirit of Skiing Award presentation on November 7, 2015 at the Log Cabin in Holyoke, Massachusetts is fast approaching. Spaces can still be obtained by calling the Museum at 800-639-4181 or by visiting http://www.newenglandskimuseum.com/events/. The cost of the event is $75 person or $750 for a reserved table of 10.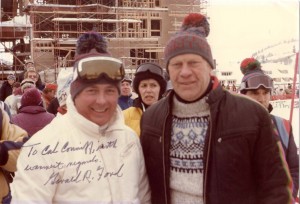 As Executive Director of NSAA, Cal Conniff traveled the country and became acquainted with many national figures. Here, he visits with former President Gerald Ford in Vail in 1982.
Cal Conniff will be the recipient of the 10th annual Spirit of Skiing Award, and the event venue in Holyoke with a view of Mount Tom was selected by the Museum in tribute to Conniff's years of managing the now-closed ski area. Under Conniff's leadership, Mount Tom was a leader in snowmaking and in encouraging beginners to take up the sport.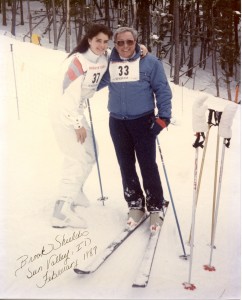 What a life! Cal Conniff with Brooke Shields in Sun Valley, 1987.
Conniff's management of Mount Tom came in the middle of his career, in which he rose from a talented ski racer who travelled throughout Europe and the West to ski, to the directorship of the National Ski Areas Association. As NSAA executive director, Conniff worked closely with the top management of ski areas across North America, and expanded the membership of the trade association. The event honoring Conniff will include a slide show with vignettes of his long love affair with skiing.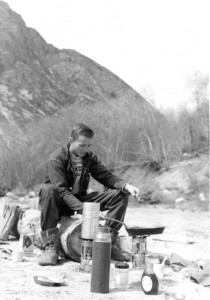 Cal Conniff camping by the side of the road to Alta, Utah on a ski trip in the 1950s.
The November 7 dinner will include a small silent auction with items that include a dramatic photo of Paralympic champion Chris Devlin-Young that the athlete will personalize for the high bidder, and signed race bibs worn at the 2015 Vail-Beaver Creek FIS Alpine Championships by Lindsey Vonn, Ted Ligety and Mikaela Shiffrin.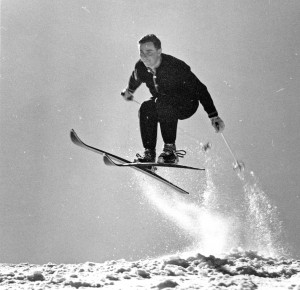 Cal Conniff was a gifted skier from his earliest days in Springfield, Vermont. Here he gets a little air in Garmisch.
The event at the Log Cabin begins at 5 PM with a reception, followed by the very short business meeting at 6:30. A buffet dinner at 6:45 precedes the 7:45 presentation of the Spirit of Skiing Award to Cal Conniff in recognition of his lifetime contributions to the sport.