By Tom Eastman, Conway Daily Sun
Member, North American Snowsports Journalists Association
Reprinted with permission
CONWAY, N.H. — Ski history was celebrated anew at the New England Ski Museum's Eastern Slope Branch and the North Conway Community Center Nov. 30 as fourth- and fifth-grade students in SAU 9 showcased their ski history projects at an open house.
Local ski legends Leanne Smith and Tyler Palmer were also on hand.
The kids' projects were on display in the community center gym, and video and slide show presentations were shown in two meeting rooms.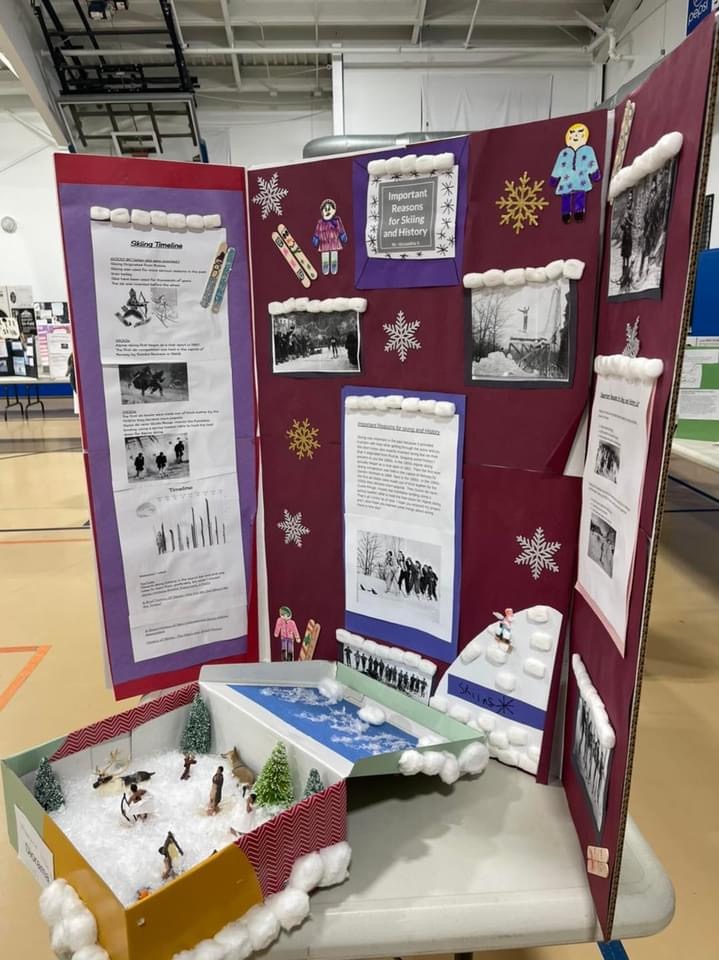 A slide show by Josiah Bartlett Elementary School gave an overview of the local ski industry, while Conway Elementary School students made a video of the recent re-enactment of the famed Hannes Schneider ski pioneering family's arrival at the North Conway Train Station in February 1939.
Meanwhile, Bavarian music was played on the community center's public address system by local radio station WMWV 93.5's van, which was parked outside.
The re-enactment of the Schneiders' arrival took place Nov. 1-3, and saw fourth-graders from all five of SAU 9's elementary schools (Josiah Bartlett, Jackson Grammar, John H. Fuller Elementary, Conway Elementary and Pine Tree School) participating.
The field trips included a ride on the Conway Scenic Railroad, during which students were joined by volunteer re-enactors George Cleveland (of WMWV 93.5-FM, portraying Cranmore developer Harvey D. Gibson); Tom Eastman (of the Sun, as Austrian ski instructor Benno Rybizka); and Christoph and Hannah Schneider portraying Christoph's grandparents, Hannes and Ludwina Schneider. Jim and Sue Tuttle portrayed the Schneiders on the final day of the excursion.
Students then got to walk under a ski pole arch presented by volunteers (including members of the Eastern Slope Ski Club and Cranmore Snowsports School).
They then did a ski history scavenger hunt at the NESM's Eastern Slope Branch; built tiny skier models to race on an indoor ski ramp at the community center; and then heard more ski talks while enjoying snacks at the North Conway Country Club.
Armed with all of this knowledge, the students spent the past month researching and organizing their projects for the community showcase.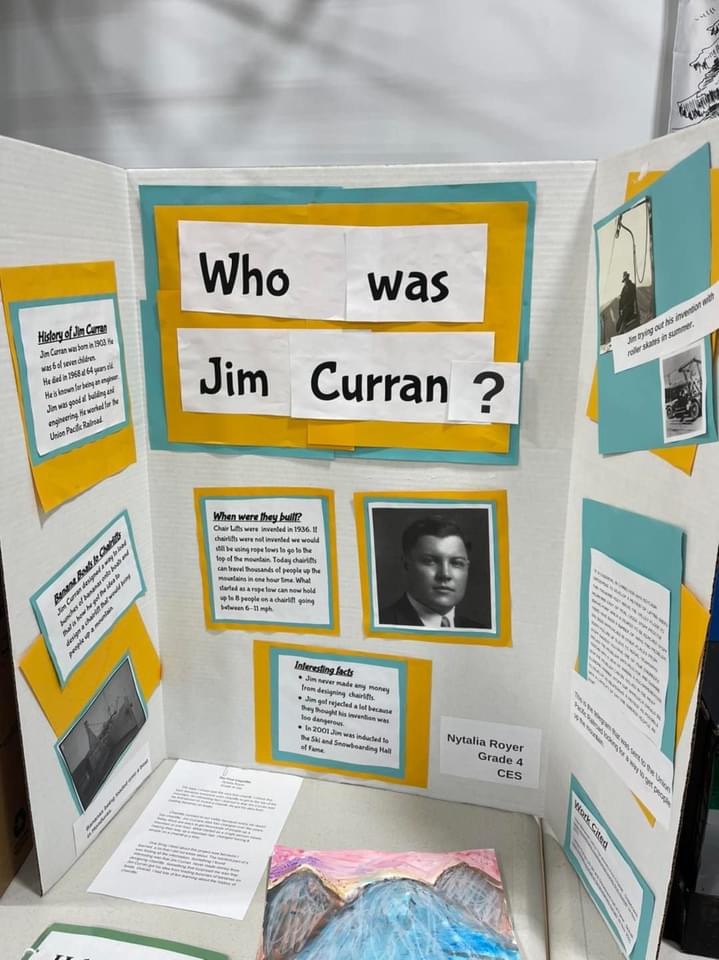 The event was organized by Betty Newton and Elaine Swanson, both volunteers for the ski museum in collaboration with Kevin Richard, superintendent of SAU 9, and local principals and teaching staff.
It was done in memory of late ski museum volunteer and former U.S. Ski Team racer Martha Coughlin Corrock (1956-2021), who as a child, along with then fellow local skier Kevin O'Sullivan, won an essay contest that enabled them to go to St. Anton am Arlberg, the hometown of the Schneiders.
"I think it's great to see the ski history passed on to these kids. They are like sponges for taking it all in!" laughed Palmer, who with brother Terry and friend David Currier of Madison was a member of the 1972 squad that competed in Sapporo, Japan.
Added Smith, now a coach for MWV Ski Team: "Having grown up in this valley and having started skiing with the Eastern Slope Ski Club's Junior Program when I went to Conway Elementary, and to have people like T.O. Currier (David Currier's brother) and Tyler coach me, I think it's really neat to see the kids learning about our ski history and how lucky we all are to grow up here.
"I am happy to be a part of it and to see all of these awesome projects that the kids have put together," Smith added.
Noting that fourth-graders in New Hampshire learn about state history as part of their curriculum, Joe Yahna, principal of Josiah Bartlett Elementary School, said he was impressed with the students' enthusiasm for this project.
"Our students took the first day as a springboard to learning about local ski history and how it connects to the community," Yahna said.
"No. 1 in a good lesson is to engage the students and to make it authentic and make it about something they know about, like skiing, recreation and being outside. It gets them excited — and it gets us (as educators) excited as well, so it's all good," he said.
"And after months and months of being inside with COVID, just to get outside and ride that train and see the re-enactors was really something — and to be here tonight to showcase their work is rewarding for them as well," added Yanha, who said his school will probably put up some of the exhibits over the next few months.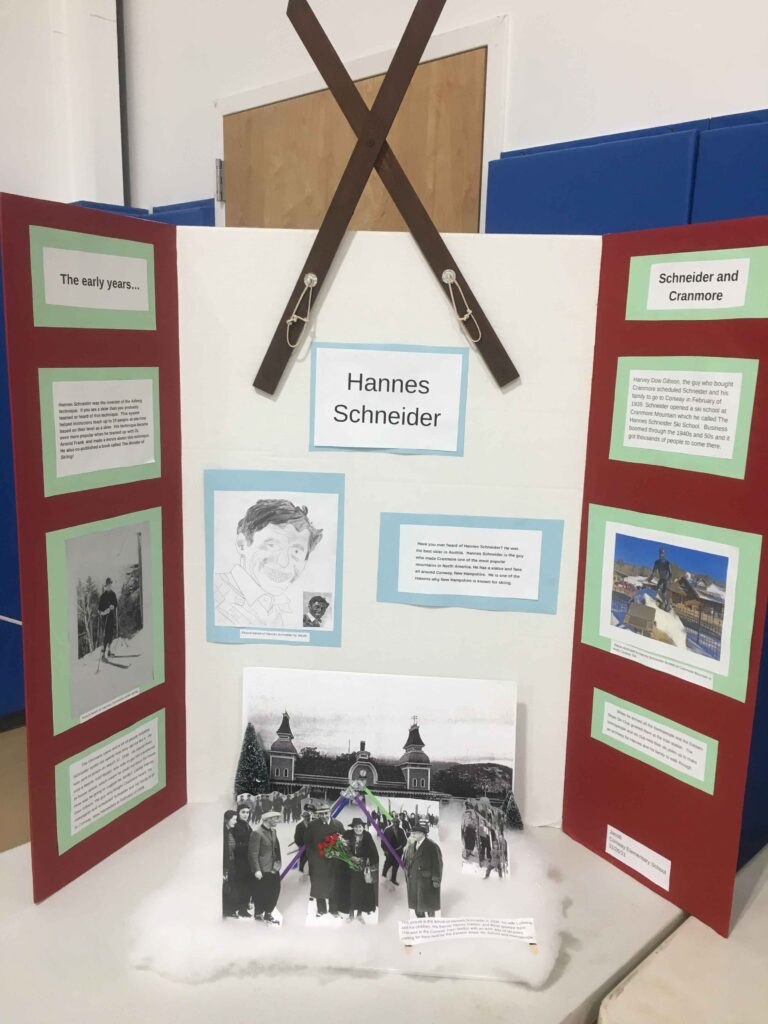 One intriguing diorama created by Jacob Lubchansky of Conway Elementary (who played Hannes Schneider in his school's video project) showed a 3-D cutout of images of the famous arrival of the Schneiders. Others showed the Skimobile and another the history of skis. Yet another was devoted to the story of late Eastern Slope Ski School and Carroll Reed Ski Shops founder Carroll P. Reed.
Newton, the event's co-organizer, said, "We will do this as an annual event and we hope to expand it to include SAU 13 fourth-graders as well. We made plaques for each school that the schools will hang in the lobby. We were very, very happy with the entire effort, and we thank all the volunteers, teachers and students."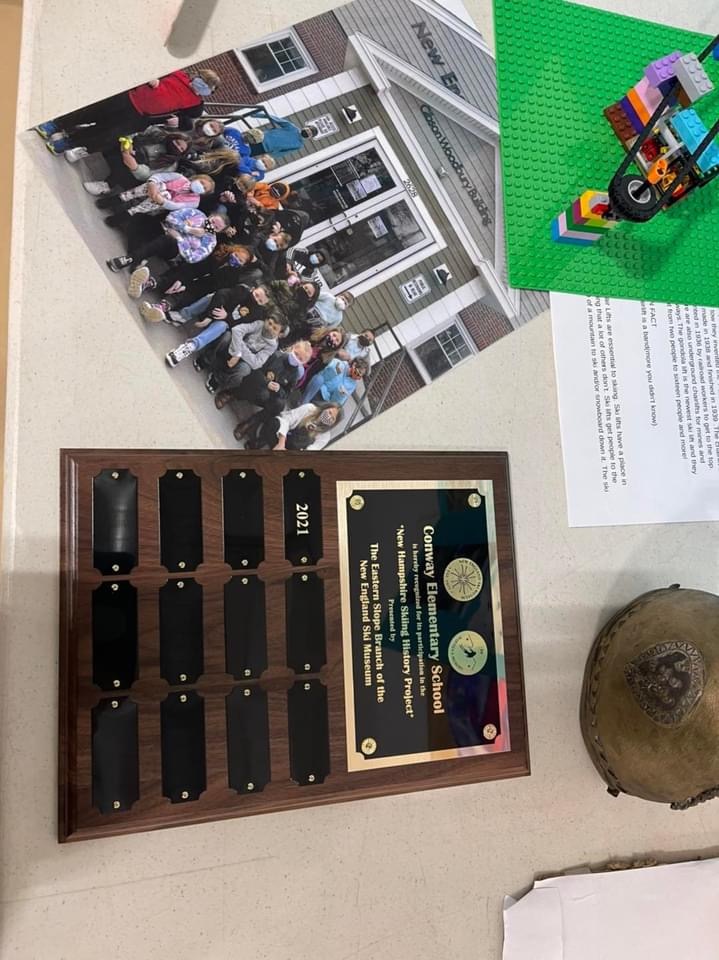 Conway Elementary fourth-grade teacher Colleen Koroski said: "I think what's neat about it is that for the families who did not grow up here, their parents learned about our valley's ski history as well.
"I tip my hat to Betty, Elaine, the ski museum and everyone who made it happen because it's not easy to get five schools involved in one thing. It was a great experience," said Koroski.
Editor's note: Tom Eastman is an award-winning member of the North American Snowspirts Journalists Association and author of "The History of Cranmore Mountain" (2013 by The History Press), available at the NESM.